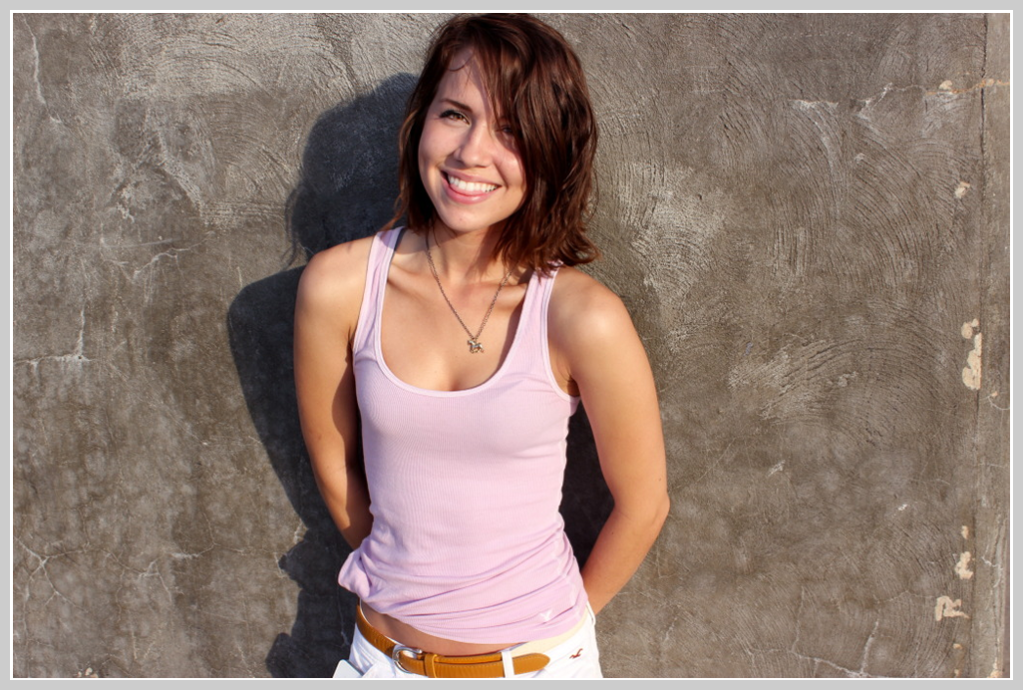 About Me
I'm a 21-year-old young woman with a higher-than-average enthusiasm for things like oatmeal and new yoga mats. Most of my hobbies include nearly excessive movement, which I could claim to be part of my 'passion for an active lifestyle,' but really might just be a rampant case of ADD. 
When I'm not busy knitting carpet for my living room or organizing my collection of plush bears by cuddliness, I'm probably running, hiking, camping, kayaking or doing yoga [if I was cooler I would say "practicing" yoga.]
I'm really great at headstands, making awkward situations worse, and watching late-night infomercials with more enthusiasm than the average bear.

About this Blog
Since you're brand new, I'll be the first to tell you that this blog is a total mess, but we're really putting in one heck of an effort to fix that. [When I say we, I really mean 'me.'] I've organized all the resources and fitness-related posts into five super-obvious categories. All of them have helpful links and info, as well as frequently asked questions about the subject. Click here for:

ABS // YOGA // EATING AND RECIPES // EXERCISE AND WEIGHT LOSS // EATING DISORDERS
About Some Other Things
If you're the touchy type, I'd look at my totally legit-looking legal disclaimer, and if not, you can use all the time you saved getting really good at this.
If you're all like "I don't care about exercise, Molly, all I care about is getting to know you as well as possible before I saw you to pieces and bury you under my shed," then first of all, awesome. I'd much rather go out that way than say, an elevator accident or falling down a well.
Second of all, you're going to want to check out my long-winded and totally serious story about my personal journey with body peace, and maybe look at my "check out all the ways I've taken full advantage of social media" page. Maybe you want to read my personal posts, what I did in 2011, or marvel at how unbelievably suave my dog is. I organized some more info below so you don't have to hunt through my jumble of text and talking, I know that can get pretty tedious [honesty is the best policy.]
THE SPECIFICS

HOW LONG DID IT TAKE TO GET TO WHERE YOU ARE NOW?
I've been working toward my goal since December of 2010.

WHAT IS INTUITIVE EATING?
The most comprehensive and logical approach to reaching the healthiest, happiest you through listening and responding to your body naturally. Read more of what it is (and more of me gushing about it) right here. If you'd like to buy the book, this is the Amazon link with all the info.

HOW MANY FOLLOWERS DO YOU HAVE?
I only have three followers, but one of them is my mom :/

WHAT'S YOUR EXERCISE ROUTINE?
I do about 1-3 hours of exercise anywhere from 3-7 days a week. I do an hour of high-intensity, low resistance cardio on a stationary bike or a treadmill, or I run outside. I also do yoga nearly every day, either on my own or in class. I don't regularly lift weights or do strength exercises, but do attend Pilates, Zumba and 30-minute-abs classes here and there.

HOW MANY CALORIES DO YOU EAT IN A DAY?
I eat between 1000 and 2500 calories per day, depending on how much I'm exercising, the nutritional content of the food that I'm eating, how hungry I'm feeling, and whether or not it's my birthday. I don't have a more specific count for you because I no longer keep track—here's why.