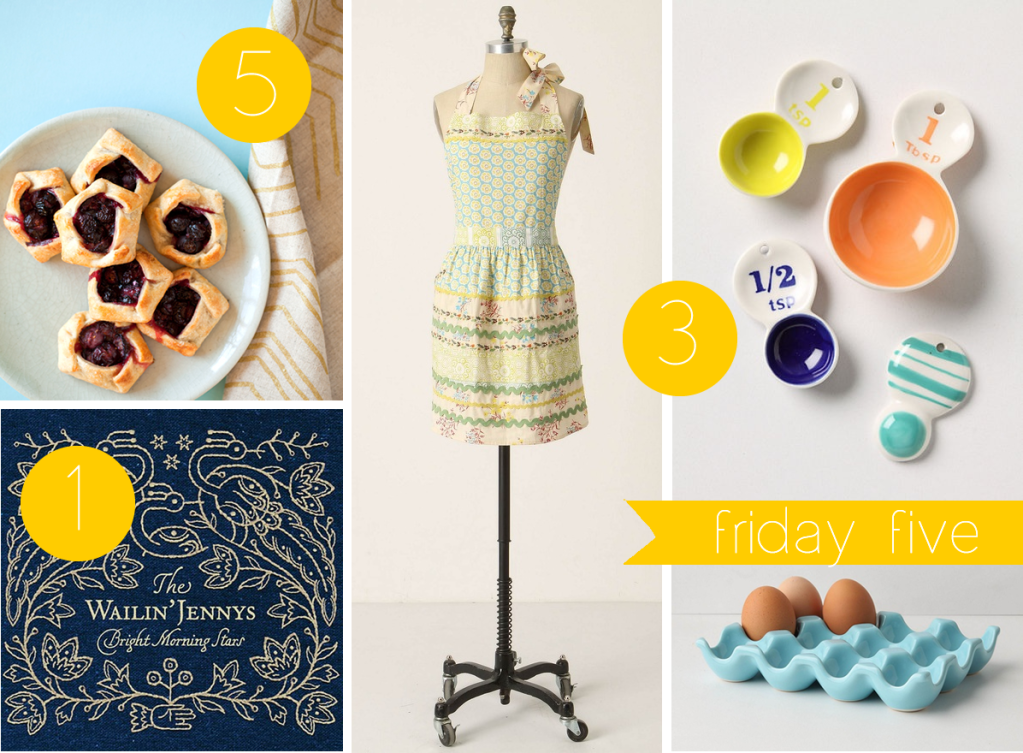 Listen, y'all, I know it isn't Friday. But I really, really wanted to do a Friday Five post, so I asked my editor if I could, just this once. And she rolled her eyes, and waved her hand in a motion that I'm assuming meant "whatever, get out of my office." So I took that as a yes.
Just joshin, I don't have an editor, and my office is my couch, so I can do whatever I want.
1. I'M LISTENING TO:
The Wailin' Jennys. Listening to them makes me feel like I'm on the porch in a rocking chair when it's raining. Every time. Especially Swing Low, Sail High. And Long Time Traveller. And the Parting Glass.
So pretty.
2. I'M READING:
I just finished The Snow Child by Eowyn Ivey. Mmm it's such a cozy book, set in Alaska. An older couple who have never been able to have a child build a child out of snow and then she comes to life. It's based off of an old fairytale—a really unique storyline, and a great read.
3. I'M LUSTING AFTER:
All the kitchen stuff at Anthropologie. All of it. See examples above. Also see the P.O. box in my sidebar.
4. I'M WISHING:
That we had air conditioning. It's 93 today, good morning Minnesota.
5. I'M DROOLING OVER:
The delicious-looking recipes at Spoon, Fork, Bacon. Most of them aren't healthy…but they will make you hungry. Even if you've already eaten the contents of your refrigerator. 
Like this Cherry Tomato & Fresh Thyme Tart. Or these Mini Blueberry Galletes. Or this Rosewater Glitter Cake, for goodness sake.
I'm flipping through Intuitive Eating for the chapter about what to do when you're reading Chocolat and follow it with a few hours of scanning through Spoon, Fork, Bacon. I've yet to find anything conclusive.